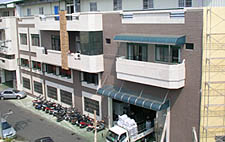 TAIPACK PRECISON CO., LTD. (TAIPACK) located in the central part of Taiwan (which is earning a strong reputation for quality machinery for the World's markets) is a leader in the manufacture and production of Semi and Fully Automatic Strapping Machine for P.P. strap.

TAIPACK was established in 1979 with the goal of producing the best quality available for the ever growing needs of the strapping industry throughout the world.

TAIPACK is now one of the World's leaders in the production and distribution of strapping systems for some of the biggest names in the packaging industry with a monthly production rate of over 1000 sets.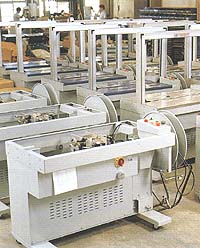 TAIPACK developed a revolutionary belt-free operation in their Semi-automatic Machines elevated the old style Tensioning Trip Arm system. This new development is most beneficial to the user during maintenance and repair. It takes away the constant replacement of the pulley belt of the present system used and reduces the number of moving parts resulting in less wear. This new development has been possible by the constant research on TAIPACK's part to offer their customers the best in quality and least down-time due to maintenance and or repairs. TAIPACK always puts quality control on the top of their agenda when designing and manufacturing their products with YOU the customer in mind.
TAIPACK's constant goal of perfection has led it to develop the following Patented products and devices:
Steel Feed Roller design (Patent No. 51300)
Newly designed Compression Strap Dispenser (Patent No. 51495)
Instant Heat design (Patent No. 46015)
Arch (Chute) re-designing (Patent No. 56869, 58317)
Strapping machine Cabinet design (Patent No. 59949)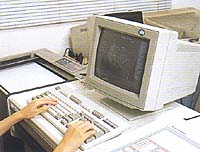 In addition to the above acquired Patents we have several new developments whose patent is pending and will soon be fully patented.
We hope that we may have the opportunity of adding your firm's name to our increasing list of Satisfied Customers.



有感於"研究發展是企業永續經營之基石",故不斷在開發新產品,研究創新自動化生產技術,目前已取得專利及商標著作權,明細如下:
| | |
| --- | --- |
| | 專利權號數 |
| 捆包機帶熱熔之改良 | 新型第四六零一五號 |
| 一種用於自動捆包機之滾輪結構改良 | 新型第五一三零零五號 |
| 捆包機帶盤結構之改良 | 新型第五一四九五號 |
| 自動捆包機感之機構改良 | 新型第五八二七三號 |
| 一種捆包機之組合式導框結構 | 新型第五六八六九號 |
| 捆包機之導框阻帶結構 | 新型第五八三一七號 |
| 捆包機箱蓋與機體結合之結構改良 | 新型第五九九四九號 |
| 捆包機之捆包帶束緊檢測裝置改良 | 新型第六三零零九號 |
| 捆包機回帶用馬尾槽結構改良 | 新型第七二三六九號 |
| 捆包機之腳架調整裝置 | 新型第九六三四六號 |
| 捆包帶盤(日本) | 實用新案登錄願第013269號 |
| 捆包帶盤結構之改良 | 新型第九六七二八號 |
| 革新及圖 | 標章註冊號數000二四九三二 |
| 捆包機箱蓋之掀啟定位結構 | 新型第一五五四二三號 |
| 全自動捆包機之導帶定位及導帶框結構改良 | 新型第一五七零四一號 |
| 捆包機之導框阻帶結構改良 | 新型第一四五九零零號 |
| 捆包機進退帶之導程控制裝置 | 新型第七三三九七號 |
| 自動捆包機之捆包帶鬆緊調整機構改良 | 新型第八五二四九九號 |
| 捆包機之進退帶夾摯結構改良 | 新型第一五九六二六號 |
| 全自動捆包機導帶機構之改良 | 新型第一三七九零六號 |
| 全自動捆包機之進退帶夾摯觸控結構改良 | 新型第一六一七零二號 |
| 傾斜式捆包機之防滲結構 | 新型第一六一七零五號 |
| 第五十類其他製造業用機具捆包機 | 新式樣第零六九九八二號 |
| 捆包機餘量之偵測裝置 | 新型第一零八五四二號 |
---
ORGANIZATIONAL CHART

| | |
| --- | --- |
| Company President: | Mr. Tsai |
| Capital Investment: | U.S.D. 1,400,000.00 |
| Production Capacity: | 1000 machines per month |
| Factory/Office facilities: | 4,000 sq.ft. |
| Employees: | 50 |
| | |
| | |
[ COMPANY PROFILE | PRODUCTS | SALES DEPARTMENT | E-MAIL | HOME PAGE ]
---

Send questions or comments regarding this site to taipack8@ms77.hinet.net, katy5756@ms63.hinet.net